Birth Date: August 1999
Rescue Date: August 3, 2002
Bailey and Dewey's pairing resulted in two births after failed vasectomy procedures – Sawyer and Jane who still live with Bailey today.
Bailey is an excellent mother and cuddled and nursed each of her babies with great care and concern. As they have grown up, Bailey still watches over them and makes sure they are safe.
Bailey really loves enrichment, especially honeysuckle. She loves to eat all the new leaves and shoots that grow in the spring, as well as the fragrant flowers.
Bailey's favorite foods are bananas, sweet potatoes, spinach and peanuts, however she and her children are not picky eaters and will clean up every last bite of their breakfast each day.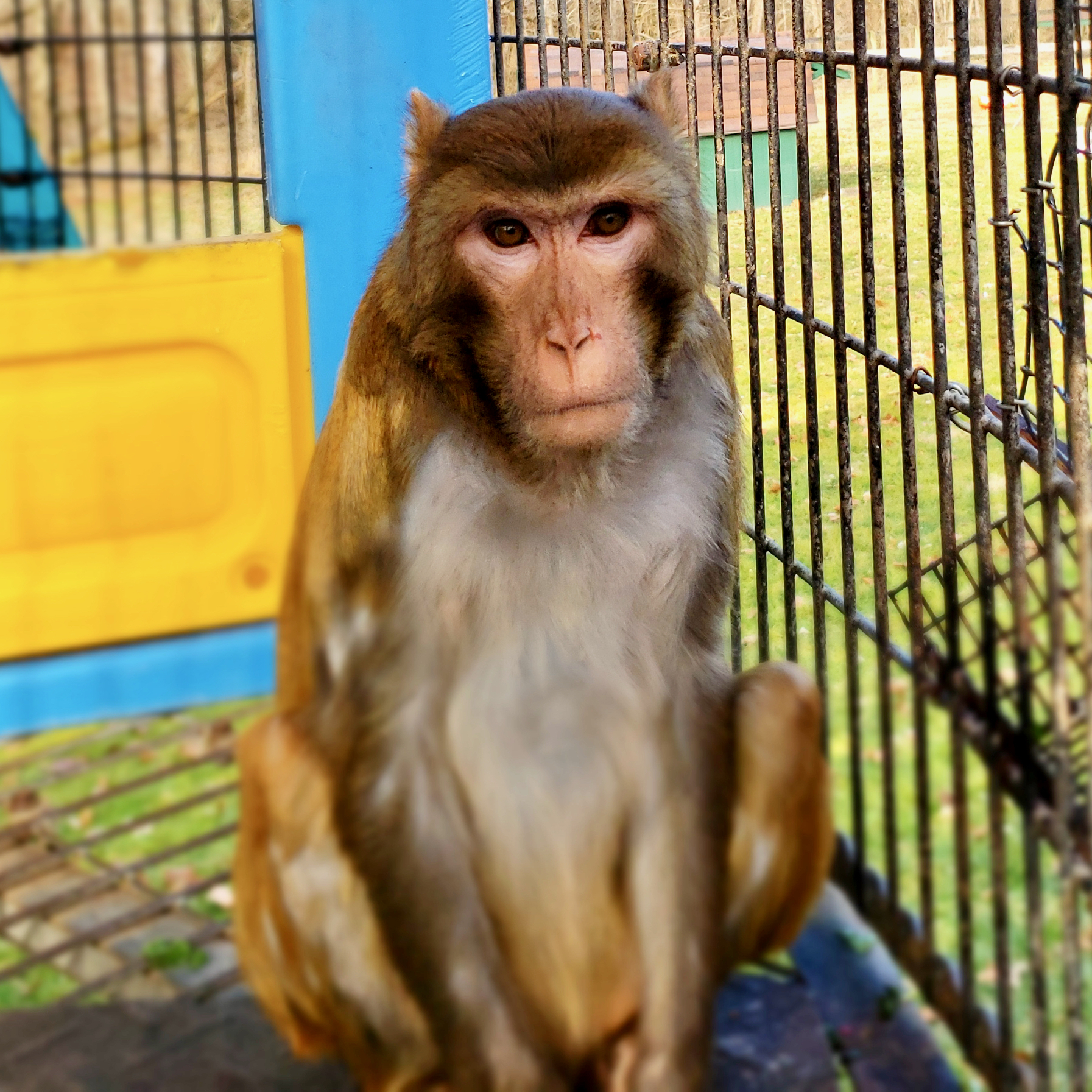 Birth Date: April 15, 2005
Rescue Date: Sawyer was born at the Primate Rescue Center
Sawyer is the largest in his group, with a long torso.
Although Sawyer was the "alpha" of this group for many years, we've noticed that young Jane has become the boss, demanding first dibs on all the fresh fruits and veggies we provide them each day.
Sawyer prefers to spend much of his time in his outdoor enclosure, but he and his family spend their nights huddled up together in their indoor house as they sleep.
Sawyer is very quiet and is rarely observed vocalizing. He enjoys quietly observing his surroundings – watching the local wildlife, watching his neighbors, and even watching the caregivers maintaining the sanctuary property. He especially likes to watch them mowing the grass.
Sawyer loves all different types of fruits and vegetables and has a big appetite! His most favorite treats are popcorn, peanuts, spinach, bananas, strawberries and apples.
Birth Date: April 3, 2006
Rescue Date: Jane was born at the Primate Rescue Center
Jane is one of very few monkeys who have lived at the sanctuary to be raised by her own mother, along with her brother Sawyer.
Jane is the youngest in her group, but has become the highest-ranking member.
Because she and her brother Sawyer were raised by their mother and were never handled by humans, they have no interest in any attention or interactions with their caregivers. They much prefer each other, as it should be.
We often see Jane enjoying her alpha status while being groomed by both Bailey and Sawyer simultaneously.