The Primate Rescue Center receives no direct funding from the government. We rely on donations from passionate individuals to support the apes and monkeys in our care! Like many non-profits, we make the majority of our yearly budget in the last 6 weeks of the calendar year, so we are counting on upcoming donations to meet our year-end goal! We are excited to be taking place in two online giving campaigns over the next two weeks.
Giving Tuesday, November 27th
We are participating in Giving Tuesday – a day in which people from across the world are encouraged to give charitable donations to the organizations closest to their hearts! This 24-hour online giving campaign organized through MightyCause is one we look forward to all year, as it greatly contributes to the financial sustainability of our organization. This year on Giving Tuesday, we are raising the necessary funds to support our Rehabilitative Enrichment Program. The apes and monkeys in our care come from traumatic pasts and enrichment is one of the main components of their rehabilitation. Enrichment is any activity, toy or device that encourages the primates to play, think or interact. Primates are highly intelligent and require daily enrichment to stimulate their minds and bodies. We are so proud of the rehabilitation and recovery that we've been able to give these rescued primates and we need your help to continue the good work! Those that give will receive the following gifts in return:
You can donate towards our Giving Tuesday fundraiser anytime here. We are also accepting donations through Facebook, our website and checks that are mailed to us. 
If you miss Giving Tuesday, don't despair! The Good Giving Challenge is another opportunity to let your holiday giving spirit shine.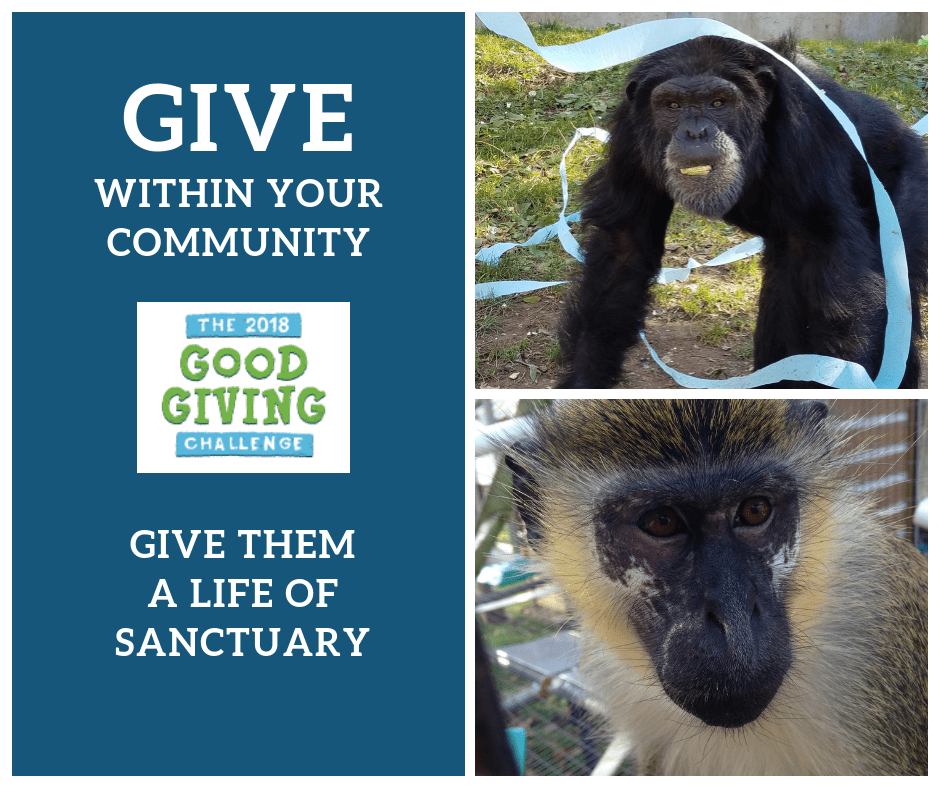 Good Giving Challenge, November 28th through December 3rd
Across the bluegrass state, community organizations will be raising funds in this year's Good Giving Challenge. This online campaign – organized by the Bluegrass Community Foundation and Smiley Pete Publishing – promotes charitable giving to a select group of organizations based in Kentucky. Please note, this campaign is open to donors worldwide, not just within Kentucky. You can donate to our Good Giving Challenge fundraiser here.
If you are unable to give, don't worry – there are still many ways you can help!
You can start your own fundraiser for the Primate Rescue Center on Facebook. It's simple – just follow the prompts on your Facebook page after clicking on this fundraisers link (also located in the menu sidebar on the left of your page). We would love for you to share what the Primate Rescue Center means to you! Anyone who creates a fundraiser – regardless of how much you raise – will receive a tote bag as a special thank you gift!
You can also help us by liking, sharing and commenting on our Facebook, Instagram and Twitter posts. We will be trying our best to spread the word and your help would mean so much to us!
The donations raised through these giving events make such an impact in the primates' lives. They help us provide rescue, rehabilitation and recovery to deserving monkeys and apes. With your donations, as well as your active participation in our social media platforms, we can continue to not only raise the necessary funds to support the 9 chimpanzees and 40 monkeys and gibbons under our care, but also share our mission to end the plight of primates. As always, your donation is tax-deductible.