The volunteer program at the Primate Rescue Center has been successfully growing and evolving over the years, and we are very proud of our dedicated and loyal team of volunteers who continue to help us create a safe, healthy, happy, and loving environment for our primate residents. Within our On-Site Volunteer program, we have a group of volunteers who have been with us for at least one year, and we refer to them as Veteran Volunteers. Last month we had some big milestones for two of our beloved veteran volunteers and we would like to let them know just how much we value their hard work, dedication, and enthusiasm in caring for our chimps and monkeys, and how much we enjoy their friendship and kindness over all these years.
Amie LeMaster, a resident of Lexington, began volunteering at the PRC in October 2011 and soon became a regular on the Saturday team, working all day alongside the care staff each week and accumulating over 1500 volunteer hours. Amie grew up in Frankfort, KY and was an animal lover from the start, having had several beloved dogs in her life and currently is the proud momma of Harley, a 9 year old Cairn Terrier (just like Toto!), and Dexter, a 4 year old lab/cattle dog mix.
Amie did an Internet search for chimpanzee sanctuaries and was astonished to find that there was a sanctuary practically in her backyard where she could volunteer and live out a lifelong dream of helping primates. When asked why she continues to volunteer with the PRC, she said, "I just feel so truly blessed to be a part of the PRC. Volunteering has reignited my passion for all primates. It is everything to me to know I am positively affecting the lives of these amazing animals."
We're so glad that Amie has been so dedicated to us over the years. Many of our newer volunteers look to Amie to help them identify all the primates. She is so much fun to work with, and her passion for primates is evident in the consistent, dedicated care she provides each day she volunteers, as well as her many donations of enrichment items, birthday sponsorships, and eagerness to get involved in any way she can within the volunteer program. Thank you Amie, and happy 5-year anniversary!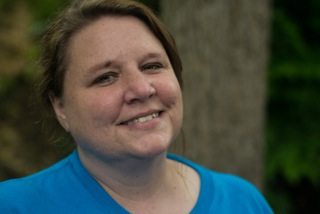 Cheryl Parson, born and raised in Nicholasville, KY, became a PRC volunteer in October 2006 and is our longest serving volunteer, accumulating a total of over 3500 volunteer hours. Cheryl has always had a love for primates since she was a little girl, especially when it came to chimpanzees. When Cheryl learned that there was a chimp sanctuary just up the road from her she was thrilled!
Upon meeting the chimps, Cheryl quickly fell in love with alpha female Hazel, and before long we started to see signs that Hazel indeed considered Cheryl one of her best friends too. Hazel would offer Cheryl a kiss through the playroom windows or look lovingly at her friend, as Cheryl would sing her a song each morning she volunteered. Although Hazel is no longer with us, we are often reminded of their amazing bond and know that Hazel's love will always be alive in Cheryl's heart.
Over her 10 years as a volunteer, Cheryl has frequently sponsored many of the chimps' birthday parties and often brings fun and exciting enrichment items for caregivers to offer the chimps and monkeys. Cheryl is also an extremely hard worker and works alongside caregivers all day to help get everyone fed and get the day's projects complete. She has been a great teacher to newer volunteers and is loved by all who meet her. We feel so lucky that such a sweet and caring woman decided that she wanted to spend her free time helping care for chimps and monkeys, because all of us (chimps, monkeys, humans, goats, and dogs) have benefited from having Cheryl in our lives. Thanks for all you do! Happy 10-year anniversary Cheryl!