Chimpmas Day Festivities Wrap Up
Thanks to our generous donors, Primate Pals and friends of the PRC who donated tons of toys, gifts and tasty snacks, the chimps and monkeys had an awesome time opening all of their presents on "Chimpmas" day in December. The caregivers set up decorations and wrapped many of the items to create an enriching and exciting party for the primates. Check out some of the photos we captured!
Annabelle with the chimps' mailbox full of gifts
Veteran Volunteer Cleeve Emurian made a wonderful mailbox to hold the chimps' letters and gifts
A puzzle mat for the chimps displaying many of their gifts
Donald received new water bottles for his tea and juice
Jenny received a new hairbrush – she loves to groom herself and brush her hair!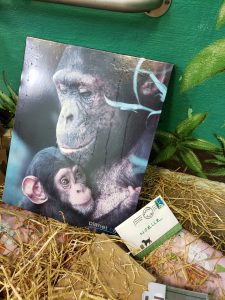 Noelle received a large chimpanzee print – she loves to look at photos!
Zulu received a plush unicorn to snuggle with in her nest
Martina received colorful puzzle mats to make her nest even more cozy
Victoria enjoyed opening her very own letter with some peanut butter hidden inside
Martina found some coconut and peanuts inside her Chimpmas letter
A bird's eye view of the chimps' party
Companions Jake (left) and Maddie (right) received a soft and cuddly stuffed monkey and a Superman board book
We are so incredibly grateful to have such an amazing and supportive group of people who share our passion for providing the apes and monkeys with a happy, fun and enriching sanctuary life. It was so inspiring to see all the gifts sent to the sanctuary, and to hear all the happy squeals, grunts, barks, and see the joy on the primates' faces as they enjoyed their party. Thank you so much to everyone who contributed to help make this past Chimpmas a very merry day! Our Amazon Wishlist is always packed with items the primates would love to receive year-round. Be sure to check that out HERE if you are interested in sending something special to the sanctuary residents.