Fall is upon us. The shortened days, crisp, cooler air, and the changing landscape from bold green to shades of warm amber, deep scarlet and sepia gold mark the beginning of many changes and inspirations at the sanctuary. The nutrition and enrichment programs at the sanctuary get a fresh dose of fall flavors, with the addition of seasonal fruits, vegetables, and spices that call up the feeling of comfort and nostalgia. Hearty apples, giant pumpkins, delicious sweet potatoes, crisp pears and eye-catching gourds, all paired with cinnamon, nutmeg and cloves are featured prominently in the primate's diets these days, as many of these items are donated in abundance this time of year.
The Primate Rescue Center's Primate Pal sponsors recently received an exclusive update about all the fun fall activities at the sanctuary. You can help us reach our goal of 180 Primate Pal sponsorships by becoming a Primate Pal today, and get in on the next exclusive update coming in December. Here's a look at some of the amazing photos captured of the primate residents enjoying all the exciting enrichment this season has to offer.
The monkeys had a blast opening up their very own pumpkins to find fresh pumpkin seeds, nuts, crackers and popcorn inside.
Ciera long-tailed macaque
Maggie Sulawesi macaque
Timmy long-tailed macaque
Andi rhesus macaque
Norman capuchin
Some of the primates enjoyed chowing down on fresh gourds and squashes.
Bailey rhesus macaque
Bisou spider monkey
Breanna rhesus/long-tailed macaque
Jenny Siamang gibbon
Apples straight from the orchard were a delicious snack for many of the monkeys.
Zoe long-tailed macaque
Jax long-tailed macaque
Junior long-tailed macaque
Sawyer rhesus macaque
Opal long-tailed macaque
The chimps had an exciting Halloween party, complete with spooky decorations, pumpkins, nuts, juice treats and popcorn!
Cory chimpanzee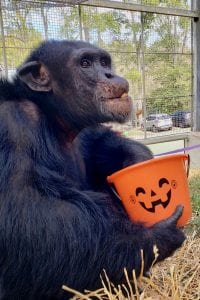 Ike chimpanzee
Noelle chimpanzee
Victoria chimpanzee