We are gearing up for an amazing day of giving just for apes! This year the Primate Rescue Center is participating in Giving Day for Apes on September 25th, 2018. This worldwide giving day specifically for apes, hosted by the Arcus Foundation and the Global Federation of Animal Sanctuaries, will be supporting more than 30 sanctuaries who care for apes throughout Africa, Asia and North America, including the PRC.
The Primate Rescue Center is the permanent home for nine chimpanzees and one Siamang gibbon, who's name is Jenny (pictured left). We will be raising funds all day on September 25th to support the daily care of these amazing animals. We want to spread the word so that all of our supporters have the chance to give and encourage friends and family to give and support the care of all the apes at the PRC.
We will be using our social media pages to share about Giving Day for Apes and we would love your support in spreading the word! You can visit our giving page here, and share with your family and friends to help us raise funds for all of the apes at the PRC. You don't have to wait until September 25th to give, so visit our giving page to give your gift today! On Giving Day for Apes, we will also have the opportunity to receive monetary prizes, given away during "power hours," so keep an eye on our social media pages so that you can help us win additional funds for our medical program.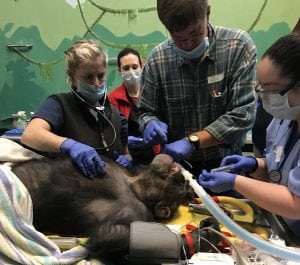 This year on Giving Day for Apes, we will be focusing on raising money for our medical program. We are committed to giving all of our residents the best medical care possible, and we spare no expense to provide routine medical care as well as treatment for acute illnesses. Each routine medical exam can range from $1000-$2000 for each chimpanzee, plus we have several apes who take medication daily for various conditions. We hope that by participating in the Giving Day for Apes we can raise funds so that we can continue to provide the best medical care possible for years to come. Your donation will go directly to the care of the apes at the PRC – from medical exams to daily medication, to natural wellness supplements, your gift helps cover the cost of these necessities.
We are so grateful to our supporters, and we are excited to participate in this amazing fundraising day to support apes! To find out more about this event, you can visit the Giving Day for Apes website here and read all about the upcoming event.