It's that time of year – Chimpmas is here!  This year the chimps thought long and hard about what they would like, and then compiled a list of their favorite snacks and toys to brighten up their holiday season!  We will share each Chimpmas wish on our Facebook page, but here is the complete list in case you want to get your shopping done early! Don't forget to shop through smile.amazon.com and have a portion of your total to be donated to the PRC as well!
Donald: Baby dolls – Donald is the alpha male in his troop of 9 chimps. After helping to raise all of the younger chimps in the group, he has learned to be a great father! He loves carrying his baby dolls around and even shares his favorite hammock with them from time to time! You can find Donald's gift here.
Zulu:Mixed nuts – Zulu enjoys foraging for nuts whether she is outside in the grass or inside foraging through straw and paper. She gets so excited when she finds her favorite nuts, so  mixed nuts are sure to brighten her holiday! You can find Zulu's gift here.
Victoria: Burlap bags – Victoria loves spending the cold winter days snuggled up in a nice warm nest, and her favorite nest making material is burlap!  You can find Victoria's gift here.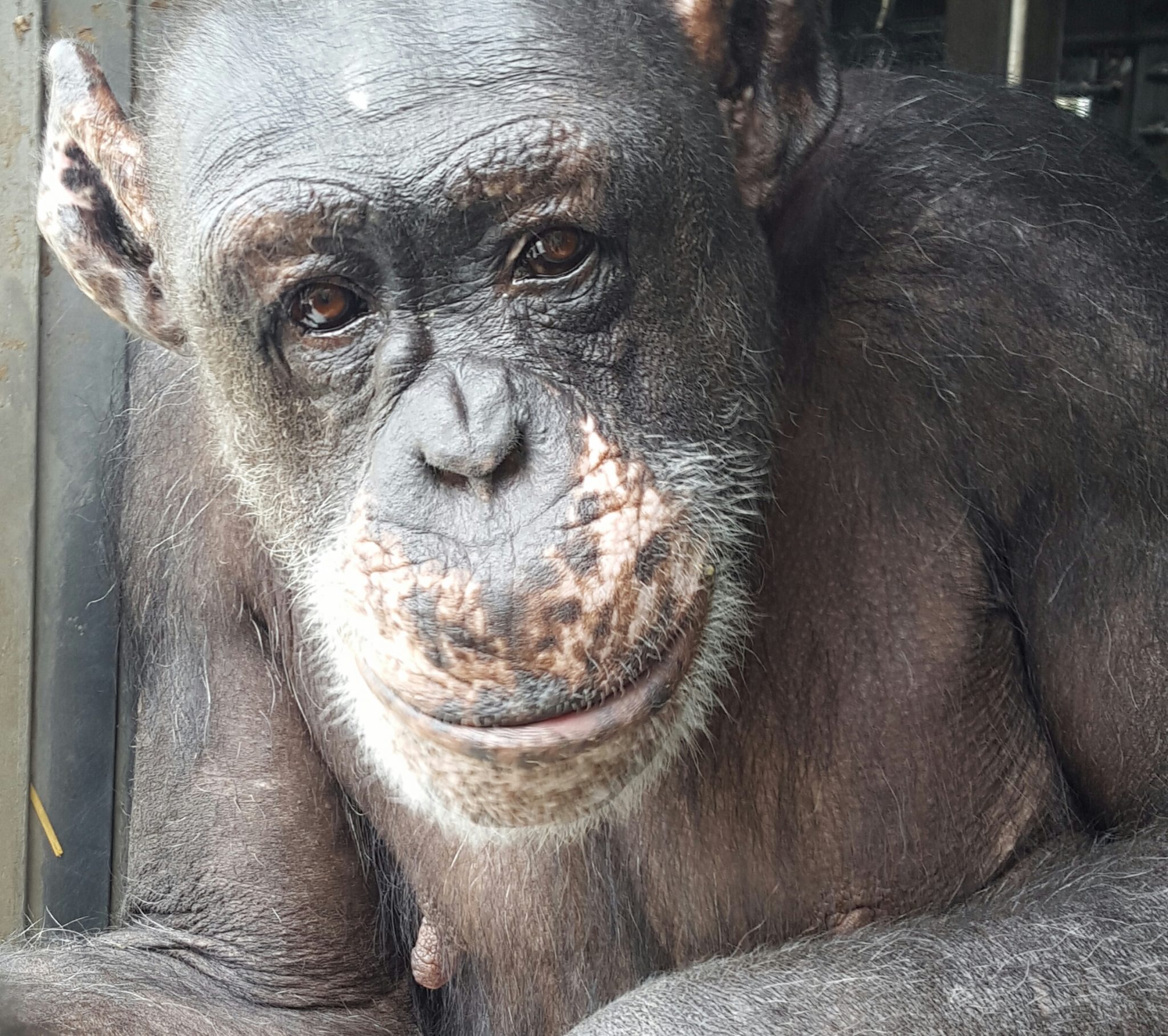 Martina: Stuffed arm pillow – Martina loves all things soft and fluffy, so what better gift than a giant pillow for her to snuggle up with? You can find Martina's gift here.
Ike: Large forage tub –  Ike loves foraging in a pool full of tasty treats! These large pools can be filled with everything from balls to popcorn, and Ike is ready to jump in and start playing! You can find Ike's gift here.
Noelle: Fuzzy Slippers – Noelle is a true fashionista! She often asks her caregivers to show her their shoes, and when given shoes for enrichment, she will carry them around for days. These slippers are the perfect mix of style and comfort, so she is sure to love them! You can find Noelle's gift here.
Jenny: Velvet colorable poster– Jenny loves playing with paper and also loves exploring different textures, so these posters will provide hours of fun for Jenny! You can find Jenny's gift here.
Rodney :Apple scented Jolly Ball – Rodney likes to examine different textures, scents, and colors, so this Jolly ball is the perfect gift for him! It's large and durable so it's sure to be a big hit! You can find Rodney's gift here.
Cory: Lavender flowers – Cory always gets so excited when he gets to explore new tastes, and these dried lavender flowers are right up his alley! You can find Cory's gift here.
The chimps also get together and chose a fun playhouse as a group gift! If you prefer to get a gift to give to the group you can find their favorite playhouse here.
And we don't want to leave our monkey friends out! They have collectively asked for some peanuts to share!
And there you have it – Chimpmas list 2017!
As you are shopping for everyone on your list, don't forget that adopting a primate through our Primate Pals program is a great gift idea! Each adoption package includes a photo and certificate, as well as a family membership and periodic updates about your new pal! You can pick out a Primate Pal here, and make a one-time payment of $150 for the year, or pay in monthly installments.