After the decision to cancel the annual on-site Member Event at the Primate Rescue Center to protect the primates, staff, volunteers, members, and our community, the sanctuary was able to shift gears and create a virtual experience instead. This virtual event offered members an exclusive online portal to witness the gift of sanctuary and enjoy many of our event's highlights through our first ever Virtual Member Event open from June 18 – June 27. Although we were disappointed to not be able to welcome our beloved members on-site, our virtual event was an amazing accomplishment and overall success in bringing the sanctuary sights and sounds to members through the convenience of their own home computers, tablets and smart phones. Over 320 members visited our online event, and we received some wonderful feedback as members truly enjoyed watching all of the videos, exploring the sanctuary, and learning more about the primate residents as well as supporting the primates through our online gift shop and silent auction.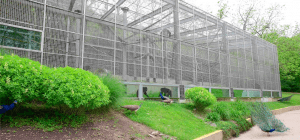 The Chimpanzee Outdoor Enclosure
The Chimp House
The Jessamine Creek
This virtual event would not have been possible without the support of our amazing primary sponsors, Joker Business Solutions, who helped us design and create the virtual event through our website, and Mark Rush Photography, who helped us with filming and editing many of the videos seen throughout the online event. We are so very thankful and appreciative of their support!
Joker Business Solutions is a multi-faceted company that offers a variety of services to meet your business needs while remaining dedicated to customer service and results. Services include cloud backup storage, cyber security, web design & hosting, and marketing services that will be sure to take your business to the next level. Joker Business Solutions helps organizations invest in technology that creates real value and builds the right things at the right time. Let them know that you learned about them through the PRC!
Mark Rush Photography offers photography and videography services for personal and business applications and is owned and operated by published and award-winning photographer, Mark Rush. Mark's photography has been featured as part of the "Arts in Healing" movement found in many of the Lexington, KY hospitals as well as on album covers, press releases, and musician websites. Mark has an extraordinary talent in using creative lighting techniques, flattering angles, beautiful backdrops, and interesting locations to capture all your precious moments, special memories and important life events that you will cherish for all time. Mark Rush Photography services the Owensboro, Kentucky and Evansville, Indiana areas. Let them know you learned about them through the PRC! 
Virtual Member Event Map
During the event, members were able to access videos and profile information about each of the primate residents by clicking the site's map points, as well as direct links to their main webpage to learn more or become their Primate Pal. We gained six new Primate Pals during the event bringing our total number of Pals to 164 and a little closer to our goal of 180 total Pals in 2020.
We created an online Activity Area for viewers to participate in primate drawing tutorials, make-at-home crafts and recipes, and a sound and picture matching activity that gave viewers a chance to hear some of the sanctuary sounds they would have enjoyed had they been on-site. There were also printable primate coloring pages, recipes we serve to the primates, and primate enrichment building instructions for those who wanted to make something for the primates to enjoy. We'd like to say a special thanks to Laura Youngworth, Deborah Aparicio, and Jennifer Kennedy for helping us to create the engaging and enriching content for this area of the event.
We were able to offer, for the first time ever, an online Gift Shop for members to purchase PRC logo items such as T-shirts, hats, tote bags, drinkware, stickers and magnets! We are planning to open the online Gift Shop to the public in the coming month, but we were so happy to offer the opportunity to purchase PRC merchandise at special membership prices to our members during this event.
It wouldn't be a PRC Event without our amazing Silent Auction, and this year was no exception! There were a wide range of items available for bidding during the event, many of which were donated to the PRC by supporters from around the globe. We would like to send a big thank you to the following businesses and individuals for their generous contribution to our online auction:
Ashley Curtis, Blushing Beauty Salon
Emily Rogers
Ethan Moore, SGO Designer Glass of Chattanooga
Lexington Marriott City Center
Lindsay Golden, Golden Fern Embroidery
Melanie Parker, Yellow Leaf Designs
Last but certainly not least, we would like to recognize and thank our amazing PRC Members. Thank you all so much for showing your support for the sanctuary through your participation in the Virtual Member Event. We truly could not give this wonderful gift of sanctuary to the primates without your generosity and continued support. We hope that everyone who visited the virtual event was able to feel more connected with our residents and see how your contributions are helping us to give these magnificent primates the peaceful, happy and enriching life they deserve.
Martina Chimpanzee