On May 2, 2019 we said goodbye to our dear, old friend Toby long-tailed macaque as he passed away peacefully surrounded by those who loved him most. Toby's health had begun to deteriorate in the last year despite our best efforts to help him regain his strength and health, and ultimately his body and his sweet, tired eyes told us when it was time to let him go. 
Toby came to the sanctuary in 1995 at the age of 4 after being rescued by co-founders April Truitt and Clay Miller from a home in Las Vegas, NV. As a young monkey, Toby was very lively and energetic, and even enjoyed swimming and splashing in the water.
While at the sanctuary, Toby lived with several different monkeys over the years including current PRC residents Ciera, Maddie, and Zoe, and departed monkeys Tonya, Nina, and Lily. He was always very welcoming of new monkeys to his group and offered them true companionship and acceptance. Toby was a very kind and sweet boy, always looking out for his companions, grooming with them, hugging, squealing with joy, and comforting them.
Toby's expressive eyes and happy demeanor let the caregivers know that he was a generally content boy. He wasn't shy about squealing when he saw his breakfast was on the way, and he was quick to greet the caregivers with a lip smack. Some of his favorite foods were tomatoes, grapes, bananas, peanuts, and jelly sandwiches, and he really liked to soak his chow biscuits in his pool or with his water bottle.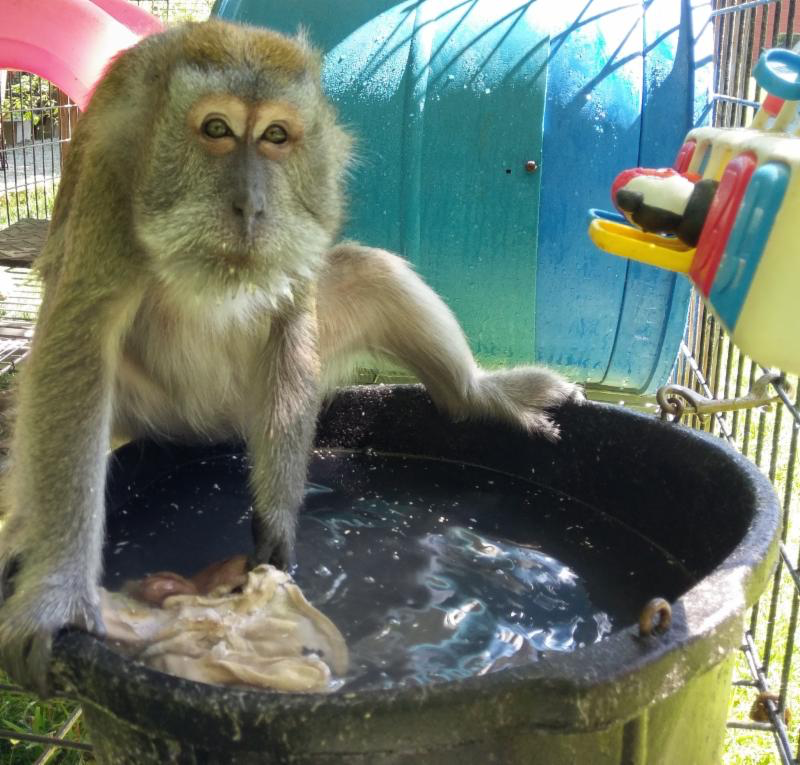 He was also known for his attachment to his "baby", which was a stuffed animal that he carried with him and protected and rarely left unattended. In the summertime when Toby had a pool of water in his enclosure, he was sure to dunk his baby into the pool to give it a good bath. Most recently his baby was a little brown billy goat, but in years past he had others he would keep with him until they literally fell apart from wear. 
It is beyond difficult to say goodbye to those we have cared for and loved for so many years. We take comfort in knowing that during the 24 years that Toby lived at the PRC, he found friendship, kindness and experienced true love from his companions and caregivers. We were all fortunate to have known and loved him, and been given the honor of caring for him through his journey of life.