As we look forward to everything 2019 has in store, we reminisce about the extraordinary memories that were made during the 2018 holiday season. November and December were some of the busiest, and most exciting, months of the year at the Primate Rescue Center. Not only did we strive to meet our year-end fundraising goals, we were hard at work bringing each and every resident holiday cheer! 
On Thanksgiving, the apes and monkeys celebrated with veggie quesadillas and frozen peach-bark. They really enjoyed these donated goodies made by Angel, a member of our off-site volunteer program, who regularly cooks tasty enrichment treats for the apes and monkeys to enjoy.
Martina, chimpanzee, enjoyed a quesadilla.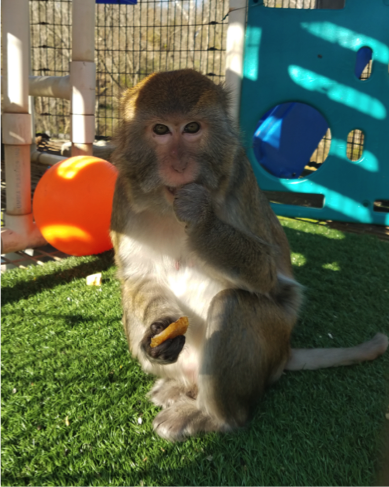 Breanna, hybrid rhesus/long-tailed macaque, ate some tasty peach bark.
Ciera, long-tailed macaque, loved the veggie quesadillas!
Each year around the holidays, we ask our cherished group of Primate Pals to consider donating a gift for the primate they sponsor. We are always so humbled and amazed by how many people send goodies for the apes and monkeys! Our Primate Pal program is a great way to get involved – you can get more information on this program here.
Dozens of packages flooded our mailbox, each one addressed to a very special primate. 
Coconut chips, stuffed animals and corner feeders were just a few of the items that Primate Pals sent for their buddies this year. The apes and monkeys were so excited for their goodies. We truly can't express how grateful we are to the thoughtful folks that sent gifts this holiday season.
This sweet little penguin was sent for Zulu, who loves to snuggle with stuffed animals as she naps.
All of our holiday festivities culminated at the 2018 Chimpmas Party! Although December 25th is just another day for anyone besides humans, we caregivers made it a fun and memorable day for the chimpanzees by throwing a little party with interactive decorations, yummy treats and lots of holiday cheer!
Jenny had so much fun playing with all of the wrapping paper!
All of the chimps had a great time at their Chimpmas party. They were jingling and jangling all through the night!
When the clock struck midnight and December turned to January, all of the primates were indifferent to the celebrations, fast asleep in their nests. Although the first day of the New Year felt like any other day to the apes and monkeys, our team of caregivers spent it reminiscing on the last year and looking forward to the years to come. We are so grateful to our donors, volunteers, interns and supporters who brought so much joy and happiness to the primates this past holiday season. Without such generosity, the life saving work we do would simply not be possible. We hope the holidays brought you as much joy as they did us!