The Primate Rescue Center's Off-Site Volunteer Program is a great opportunity for volunteers near or far of all age ranges who love apes and monkeys. Off-Site Volunteers participate in providing excellent care and enriching experiences to the PRC residents by creating enrichment items from their very own home. There are numerous projects to choose from in our own enrichment "cookbook," or volunteers can come up with their own project ideas and have them approved by the PRC caregiving team to be given to the primates.
Two of our Off-Site Volunteers from North Carolina, who are also beloved Primate Pal sponsors, decided to create some fun enrichment envelopes for each of the primate residents with their Aunt Amie (who is also a Veteran On-Site Volunteer at the PRC). The girls stuffed these enriching envelopes with shredded paper to create more of a foraging experience and added nuts, cereal, seeds, dried fruits and coconut shavings. They sealed up the envelopes and addressed each one with one of the PRC residents' names. What a delightful surprise for everyone to receive their own personal enrichment envelope to open up and enjoy the treats inside!
Check out the chimps and monkeys enjoying their special envelope enrichment!
Ike, chimpanzee
Opal, long-tailed macaque
Donald, chimpanzee
Ciera, long-tailed macaque
Saidah, barbary macaque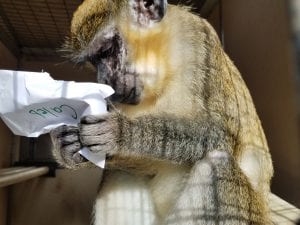 Caleb, vervet monkey
Jenny, chimpanzee
Cysgo, capuchin monkey
We're so thankful for our Off-Site Volunteers and the care and devotion they show to the sanctuary apes and monkeys.
If you or someone you know would like to become an Off-Site Volunteer for the Primate Rescue Center, please follow the link to download an Off-Site Volunteer Application.