Winter is in full effect in Kentucky! With temperatures dropping into the single digits recently, helping our residents stay warm is a high priority. Around this time of year, we commonly get questions about how all the primates stay warm. Thankfully there are a few ways.
The apes and monkeys have heated indoor areas that are sheltered from the outside elements. These spaces are heated using a propane boiler system to keep temperatures in the mid-60s and lower 70s during the winter months. Each area is outfitted with thermometers that are checked and recorded routinely throughout the day by caregivers. We also rely on an around-the-clock temperature monitoring and alarm system that notifies us if any particular area drops below our temperature threshold. This is a vital program service, and the annual cost to keep the heating and alarm systems operating is over $10,000—and even more when we have exceptionally cold winters! You can make a charitable contribution to help us afford our costly heating system this winter.
Even though the primates all have heated areas to keep them warm during the colder months, we still like to offer them other materials that keep the apes and monkeys comfortable all year long. While the chimps spend hours constructing elaborate nests, most of the monkeys will wrap themselves up in a blanket. Blankets are passed out daily and are sometimes scented with a variety of natural essential oils to stimulate or soothe the primates. We also provide them with newspaper, pine shavings, straw, and wood wool to use for bedding. The monkeys get to choose which materials they prefer to cozy up with.
When Peanut ventures outside for some fresh air, she enjoys pulling blankets over her head to shield herself from the winter chill. She will also often do this while snuggled up with her buddy Grady.
For many of us, it may be safe to say that we don't enjoy making our beds. However, this is certainly not the case for chimpanzees. In the wild, chimpanzees harvest plants, tree limbs and other materials found in the forest to construct elaborate, cozy nests in tree canopies. We encourage the chimpanzees living at the PRC to mimic that behavior by providing the troop with a variety of materials with which to make their nests. Wrapping and packing paper, paper lawn bags, straw, cardboard boxes, burlap bags, and stuffed animals are a few of their favorite building materials. The chimps spend a lot of time throughout the day designing comfortable and warm nests to nap in during the day and sleep in at night. Victoria chimpanzee is a professional nest builder. She spends quite a bit of time carefully selecting and placing her materials, and by the time she's done, she's ready for bed.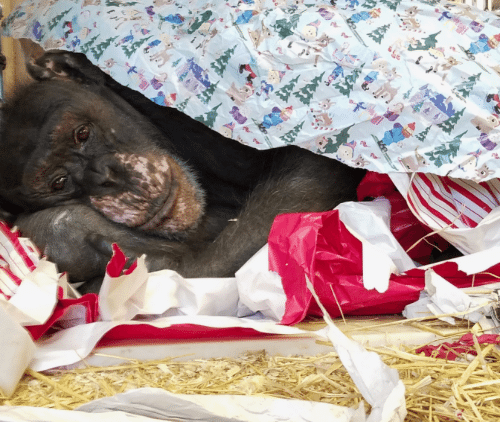 Victoria is getting ready for an afternoon nap in one of her overhead tunnels.
This photo gives just a couple of examples of the apes and monkeys favorite nesting materials. If you're interested in helping provide materials for the primates, check out our Amazon Wish List where you'll find burlap bags, fleece blankets, and stuffed animals available for you to send directly to the apes and monkeys.