Over the years, the Primate Rescue Center's Internship Program has grown into an incredible teaching and learning opportunity for interested individuals from across the globe. Interns become immersed in nearly all daily tasks that occur at the sanctuary, learning directly from primate caregivers about animal husbandry and a variety of tasks that must be tackled to keep a successful sanctuary animal care program running smoothly. Many PRC interns have gone on to become zookeepers or caregivers at other sanctuaries and quite a few have become caregivers at the PRC after their internship. For people seriously interested in focusing their time and energy toward learning how to give captive primates an enriching and safe life, the PRC's internship program is an invaluable opportunity.
This summer, we have had a great group of people helping us! They recently answered some questions about themselves, so here's a chance for you to get to know a little about our incredible team of interns who started working with us this season.
Carley Burrow
Carley grew up in Nashville, Tennessee. She has always had a special place in her heart for all living things and when she was younger, she would beg her parents to take her to the zoo so she could see all of the beautiful creatures there. On those fateful trips, Carley realized her passion in life was to protect animals.
Carley is in her senior year at Berea College where she is majoring in Biology. Her goal is to graduate in May of 2020 then she will be looking to impact and save as many lives as she can by working as a caregiver at a wildlife sanctuary like the PRC.
During her time at the Primate Rescue Center, Carley has enjoyed getting to know each of the residents as she learns about their individual personalities and stories. She also has enjoyed getting to work with people who share her interests and inspire her to follow her goals. Although it was very difficult for her to select a favorite primate, she has a special place in her heart for chimpanzee Jenny's sweet eyes, rhesus macaque Andi's traumatic past and spider monkey Dehlia's sweet chirp greetings. 
In her free time, Carley likes to write music, watch television and go hiking.
Joseph Grider
Joseph was born and raised in Lexington, Kentucky. His love for animals first came about when he was a child. His favorite show when he was a kid, Zaboomafoo, introduced him to animals. Learning about all of the different animals on the show made him want to work with animals himself and teach others about them as well.
Joseph is currently in his senior year of college at Eastern Kentucky University. He is an animal studies major and hopes to work in an animal ambassador program at a zoo after he graduates. Joseph is passionate about his career goals and is excited to educate others about animal welfare.
During his time with us as an intern, Joseph most enjoyed seeing the primates interact with something he helped build or make. Although he admits that it is a lot of hard work, seeing a chimp interact with enrichment he picked out or seeing something as simple as a monkey eating breakfast he prepared has made it all worthwhile. Victoria is his favorite chimp because she has shown Joseph some extra attention out of her fondness for facial hair but he also feels very close to spider monkey Dehlia and long-tailed macaques Bubbles and Timmy.
In his free time, Joseph likes to play video games or binge watch reality television and scary movies.
Kayla Zagray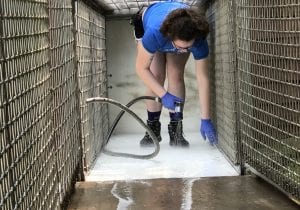 Kayla grew up in Kent, Ohio, where she had her first memorable experience as a child that made her want to work with animals. Her dad, a biology teacher, always had a classroom full of rescued reptiles that she got to help with. Kayla grew up loving all of the reptiles and her fondness for them expanded to all animals as Kayla's love for mammals, amphibians and all species grew!
Kayla graduated college from Kent State University with a major in zoology. Her time spent learning about the vast number of species that share our planet cemented her desire to work with animals. She hopes that one day she can do something that benefits animals or the environment.
During her time interning with us at the Primate Rescue Center, Kayla has enjoyed getting to work with people who share her passion to help animals and she has really enjoyed seeing the monkeys and chimps so happy. Her favorite chimpanzee is Donald because he is so sweet, which isn't what she expected to see in an alpha male, and her favorite monkey is long-tailed macaque Bubbles because she is always so excited to see everyone.
In her free time, Kayla enjoys hiking, kayaking, making crafts and caring for her family's 3 horses.
Ireland Morton
Ireland grew up a short drive away from the sanctuary in Nicholasville, KY. Her passion for animals started when she was a kid as she has always enjoyed being around animals and taking care of them. She is a rising junior at Centre College where she is majoring in Behavioral Neuroscience. At the end of the summer, she will be traveling to Costa Rica to further her knowledge of primates in a study abroad program. After she graduates, she plans to attend graduate school for primatology or some other scientific discipline relating to animals.
During her courses at Centre, Ireland acquired a strong curiousity about primate behavior as well as a strong fondness for them. When she learned about our internship program, she just had to apply! Ireland was a recent addition to our internship team and with only a few days under her belt, she is still getting to know all of the residents and their personalities. Her favorite part so far has been preparing meals for the chimpanzees. She is looking forward to getting to learn more about the chimpanzees and monkeys during her time here with us this summer.
In her free time, Ireland enjoys doing outdoor activities like hiking and kayaking.
Having Carley, Joseph, Kayla and Ireland with us this summer has been an absolute pleasure. Their hard work, positive attitudes and passion for animals is so inspiring and we are not looking forward to the day when their internships end! To learn more about our internship program or download an application, click here.