The holiday season is truly inspiring. It fosters love and laughter and brings people together. For the Primate Rescue Center, it's also the time of year that we strive to meet our year-end donation goal. With so many ways to give this holiday season, we wanted to remind everyone of all the exciting donation opportunities available:
Good Giving Challenge
Across the bluegrass state, community organizations are raising funds in this year's Good Giving Challenge. This online campaign – organized by the Bluegrass Community Foundation – promotes charitable giving to a select group of organizations based in Kentucky. Please note, this campaign is open to donors worldwide, not just within Kentucky. In order to participate, just click HERE to access our Razoo donation page. While you're there, check out some of our best images of the primates!
Amazon: Wish List and Smile Program
Online Christmas shopping has become increasingly popular over the years. If you happen to be an Amazon shopper, there are two simple ways to support the Primate Rescue Center. We maintain an Amazon Wish List containing items as inexpensive as $3.00 that can be tacked onto your existing order. Wish List items include toys, enrichment, snacks and stuffed animals. If you're looking for something to get your order to the minimum amount required for free shipping, our Wish List is sure to do the trick! In addition, Amazon Smile is a program that allows a portion of your purchase to be donated to the PRC – at no extra cost to you! Just click HERE, select Primate Rescue Center in Nicholasville, KY as your supporting organization and shop away!
iGive
iGive is a browser add-on that generates a donation to the Primate Rescue Center each time you shop online – at no cost to you! Simply download iGive on your computer, smart phone or tablet and look for the orange dandelion button anytime you shop online! You can iGive with most major companies, such as Target, WalMart, Kohl's, Macy's and many, many more! Click HERE to get started.
Bluegrass Hospitality Group Rewards
We are so lucky to be partnering with Bluegrass Community Rewards Program this holiday season. If you purchase a gift card – good at any of the restaurants listed in the image above – the PRC will receive a donation for 20% of the purchase! Simply visit THIS LINK and select our organization to benefit.
Primate Rescue Center's Website
For a quick and easy way to donate, click HERE to visit our webpage donation form. This form allows you to donate any amount and is securely processed through GIVEDIRECT. It even gives you the option to have your employer match your donation! There are hundreds of employers on our drop-down list willing to match your contribution, a few of them include Toyota, PNC, CarMax, Cardinal Health and even Caterpillar! If there's a particular primate you'd like your donation to sponsor, write their name in the notes section and we will get a special Christmas gift for them! While you're there, check out the PRC's vehicle donation program – we can take cars, vans, boats, motorcycles, golf carts, and RVs. This is a free and easy way to turn a spare vehicle into a donation that supports primates!
Keep in mind that all donations are tax-deductible and the full amount goes directly towards the care of the animals. Without the generosity of our wonderful supporters, we wouldn't be able to rescue and rehabilitate primates in need, like Andi, a rhesus macaque found roaming a residential area in Bath County, Kentucky.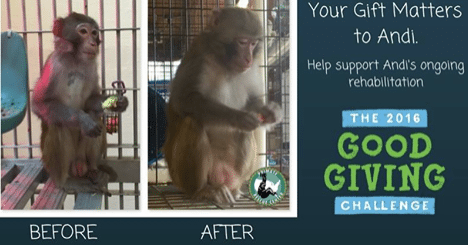 Formerly known as "Mystery Monkey 0805355," Andi was quite the media darling when he was first rescued. The number sequence above is tattooed on his chest and reveals a history in laboratory research. When Andi first arrived at the PRC, he was dangerously thin. Thanks to our rehabilitation process, Andi quickly gained weight, grew healthier and happier and is now living with a female macaque. Andi now has the chance to explore the pleasures of monkey life – most likely, for the first time.
Your support and generosity makes our work possible and we couldn't be more grateful. Please consider making a year-end donation in support of the 50+ primates that call the PRC home. HAPPY HOLIDAYS!